Dexter Gordon Free Sheet Music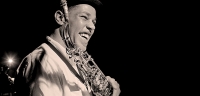 Dexter Gordon (February 27, 1923 – April 25, 1990) was an American jazz tenor saxophonist. He was among the earliest tenor players to adapt the bebop musical language of people such as Charlie Parker, Dizzy Gillespie, and Bud Powell to the instrument. Gordon's height was 6 feet 6 inches (198 cm), so he was also known as "Long Tall Dexter" and "Sophisticated Giant". His studio and performance career spanned over 40 years.
Gordon's sound was commonly characterized as being "large" and spacious and he had a tendency to play behind the beat. He was famous for humorously inserting musical quotes into his solos. One of his major influences was Lester Young. Gordon, in turn, was an early influence on John Coltrane and Sonny Rollins. Rollins and Coltrane then influenced Gordon's playing as he explored hard bop and modal playing during the 1960s.
Gordon was known for his genial and humorous stage presence. He was an advocate of playing to communicate with the audience. One of his idiosyncratic rituals was to recite lyrics from each ballad before playing it.
A photograph by Herman Leonard of Gordon taking a smoke break at the Royal Roost in 1948 is one of the iconic images in jazz photography. Cigarettes were a recurring theme on covers of Gordon's albums.
Gordon was nominated for an Academy Award for Best Actor in a Leading Role for his performance in the Bertrand Tavernier film Round Midnight (Warner Bros, 1986), and he won a Grammy for Best Jazz Instrumental Performance, Soloist, for the soundtrack album The Other Side of Round Midnight (Blue Note Records, 1986). He also had a cameo role in the 1990 movie Awakenings.
Dexter Gordon - You've changed Piano Sheet Music
Advertisement
Advertisement

Please right click on the download button and select "Save Target As" or "Save Link As" to download



You can share this sheet on your Twitter or Facebook account to let your friends know too!


(219.38KB)