Andy Williams Free Sheet Music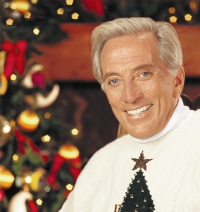 Howard Andrew "Andy" Williams (born December 3, 1927) is an American pop singer. Andy Williams has recorded 18 Gold and three Platinum certified albums. When Ronald Reagan was president, he declared Andy's voice to be "a national treasure". He had his own popular TV variety show from 1962–71. He also owns his own theater, the Moon River Theatre in Branson, Missouri.
Williams' solo career began in 1952 after his brothers left the act. He recorded six sides for RCA Victor's label "X," but none of them were popular hits.
After finally landing a spot as a regular on Steve Allen's Tonight Show in 1955, he was signed to a recording contract with Cadence Records, a small label in New York run by conductor Archie Bleyer. His third single, "Canadian Sunset" (1956) hit the Top Ten, and was soon followed by his only Billboard #1 hit, "Butterfly" (a cover of a Charlie Gracie record on which Williams imitated Elvis Presley). More hits followed, including "The Hawaiian Wedding Song" (U.S. #11), "Are You Sincere" (U.S. #3), "The Village of St. Bernadette" (U.S. #7), "Lonely Street" (U.S. #5), and "I Like Your Kind Of Love" (U.S. #8) before Williams moved to Columbia Records in 1961, having moved from New York to Los Angeles and gaining another hit with "Can't Get Used to Losing You" (U.S. #2). In terms of chart popularity, the Cadence era was Williams' peak although songs he introduced on Columbia became much bigger standards.
During the 1960s, Williams became one of the most popular vocalists in the country and was signed to what was at that time the biggest recording contract in history. He was primarily an album artist, and at one time he had earned more gold albums than any solo performer except Frank Sinatra, Johnny Mathis and Elvis Presley. By 1973 he had earned as many as 18 gold album awards. Among his hit albums from this period were Moon River, Days of Wine and Roses (number one for 16 weeks in mid-1963), The Andy Williams Christmas Album, Dear Heart, The Shadow of Your Smile, Love, Andy, Get Together with Andy Williams, and Love Story. These recordings, along with his natural affinity for the music of the 1960s and early 1970s, combined to make him one of the premier easy listening singers of that era. In the UK, Williams continued to reach high chart status until 1978. The albums Can't Help Falling In Love (1970), Andy Williams Show (1970) Home Lovin Man ( #1 1971), Solitaire (1973), The Way We Were (1974) and Reflections (1978) all reached the Top 10.
Building on his experience with Allen and some short-term variety shows in the 1950s, he became the star of his own weekly television variety show in 1962. This series, The Andy Williams Show, won three Emmy Awards for outstanding variety program. Among his series regulars were the Osmond Brothers. He gave up the variety show in 1971 while it was still popular and retrenched to three specials per year. His Christmas specials, which appeared regularly until 1974 and intermittently from 1982 into the 1990s, were among the most popular of the genre. Williams has recorded eight Christmas albums over the years and has been penned as Mr. Christmas.
Williams hosted the most Grammy telecasts, from the 13th Annual Grammy Awards in 1971 through the 19th Annual Grammy Awards in 1977, totaling seven consecutive shows. He returned to television to do a syndicated half-hour series in 1976–77.
Andy Williams - On Broadway Piano Sheet Music
Advertisement
Advertisement

Please right click on the download button and select "Save Target As" or "Save Link As" to download



You can share this sheet on your Twitter or Facebook account to let your friends know too!


(157.09KB)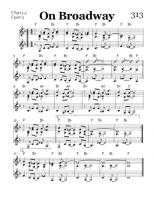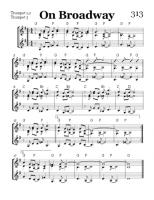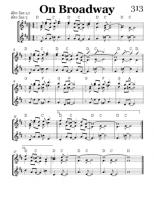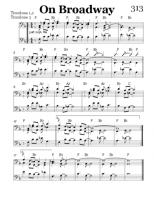 Other music sheets of Andy Williams