Big Bang Free Sheet Music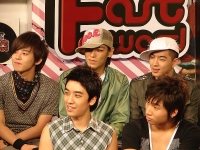 Big Bang (Korean: 빅뱅), commonly stylized as BIGBANG, is a Korean boyband made up of five Korean singers. Although their debut was somewhat successful, it was not until the release of "거짓말" ("Lies") that the group gained mainstream success.
Big Bang's music style can be classified for the most part as hip pop music (as seen with the songs "La, La, La" and "Goodbye Baby"), with a little vibe of R&B (as seen with the songs "We Belong Together" and "Forever With You"), dance ("Shake It") and mainstream ("This Love") music. Rock with "Oh My Friend". Finally, becoming the greatest hit songs of 2007, (as seen with the songs "Lies", "Last Farewell", and "Haru Haru (Day By Day)") electronica is seemingly becoming the new music trend in Korea. However, the members have branched out into different genres in their solo work, including singing ballads and mainstream pop music. Big Bang even once mentioned in an interview that if they want to, they might do trot someday. Daesung's first digital single, "Look at Me, GwiSun" ("날 봐, 귀순"), was a trot song, which had been somewhat controversial considering Big Bang's primary focus on hip-hop.
The members of Big Bang often contribute to writing lyrics for their own music as well as composing despite only debuting in 2006. The most notable from the group to compose and write is leader G-Dragon, as he has composed and written numerous songs for the group, including "Lies" and "Last Farewell." Aside from G-Dragon, the others members have contributed to writing lyrics as well. T.O.P has also written a song for their third mini album Stand up, called "Good Man". On a whole, Big Bang has received praises from critics, fans, and other singers alike for contributions to their own materials.
Big Bang - Koe wo Kikasete Piano Sheet Music
Advertisement
Advertisement

Please right click on the download button and select "Save Target As" or "Save Link As" to download



You can share this sheet on your Twitter or Facebook account to let your friends know too!


(130.82KB)







Other music sheets of Big Bang